Healthcare consumerism and patient responsibility have seen a coinciding rise over the last decade plus. The COVID-19 pandemic served to exacerbate the difficulties many patients face with their out-of-pocket balances. The following excerpt is from a recent Forbes article: "According to interviews AccessOne conducted with 47 healthcare billing executives, 43% of providers reported increases in patient requests for payment plans even as hospitals face their own financial struggles, and 40% report an increase in bad debt." News like this makes one question why payment plans aren't a universal practice in 2021? Especially when an astounding 87% of patients expect to have long-term financing available to them.
Whether outsourced or managed by your team, the ability to offer payment plans to your patients is a must have, at least as far as RevCycle is concerned. Here's why.
Payment Plans Help Patients Help Themselves
The majority of Americans live paycheck to paycheck – gone are the days of having savings accounts to cushion against unexpected costs. In fact, this article based on a 2019 Healthcare Consumerism Study by ClearBalance highlighted that only 29% of respondents had savings to cover six months' worth of medical expenses, with 63% saving less than $1000 for medical care. Three out of every four survey respondents  inquire about payment options for their out-of-pocket responsibilities.
89% said they need more than 12 months to repay healthcare expenses.
Beyond the financial implications for your patients, their health can also suffer. 37% of respondents from the study above would put off treatment if they were unable to obtain financing. This coincides with other studies we have read during our time putting out this blog. It is very telling that during a global pandemic, a substantial number of Americans are more worried about the potential cost associated with the disease than the illness itself. Finally, this pie chart.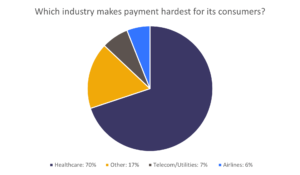 The question is broad enough to potentially include the consideration of other topics such as payment portals. However, an industry battling the financial difficulties facing healthcare should pursue every possible avenue to make payment easier, including offering longer-term financing.
Increasing Patient Responsibilities Require Increased Options
In May, a post put up by paymentsjournal.com highlighted that in 2020, "patients with commercial insurance would be responsible for 20-35% of the cost of the healthcare they received". Those percentages can easily translate into thousands of dollars of debt. Yet according to the same article, 37% of respondents said they could only afford to pay less than $100 per month. If providers do not look to accommodate their patients with payment plans, they run the risk of patients winding up in collections by default.
In fact, Credit Karma released some numbers in October 2020, and they are staggering. A full 20 million of their U.S. members had $45 billion (of medical debt) in collections, which averages out to $2,200 per member. That data comes from the same Forbes article we linked to earlier. It states that payment plans are more important to higher-income respondents, which they categorize as those making $100,000 or more. 58% of that income bracket rated the offering of multiple payment options as important, versus 42% of those earning less. 63% of the higher income bracket said they would switch healthcare providers for access to no or low interest payment plans.
RevCycle can help with our MLOC Product
Partnering with RevCycle to provide an internally-funded loan program helps grow and nurture patient relationships – 88% of patients in this study say they would recommend a healthcare provider offering payment plans to friends and relatives.
Send us a message or call 888.576.5290 to schedule a phone consultation at your convenience. We are always happy to discuss any revenue cycle concerns!