Patient access is a term that is both very prevalent and not well defined. RevCycle's perspective is that patient access is any avenue the patient uses to attain some aspect of their healthcare; be it appointment scheduling, bill estimates and financial options, prescription history, etc. Patient access is inextricably tied to revenue cycle performance now more than ever, as patients continue to increase their consumeristic behaviors while their financial responsibility grows ever larger.
Patient access must be continually refined to ensure patients are getting the care they need while maximizing their experience and retention levels, in addition to enhancing operational efficiency. It is also important to note that getting accurate, relevant information from the patient (demographics, insurance, etc.) and to the patient (bill estimates, patient responsibility discussions, etc.) as early as possible optimizes the efficiency of the process for everyone.
Time for a deeper look at patient access.
Appointment Scheduling – Omnichannel Approach Maximizes Accessibility
Convenience is king for the modern consumer and healthcare is no longer exempt. According to a survey from October 2019 by DocASAP, 84% of respondents rated scheduling an appointment outside of business hours as "somewhat to very important" to them. Yet about 85% of all patients still scheduled their appointments via telephone, according to 2017 data from Healthgrades. So, what exactly is a patient-centric provider to do?
The answer lies in the middle – continue to offer appointment scheduling by phone in conjunction with an online scheduling platform. While traditional online scheduling has utilized a patient portal unavailable to new patients, there are now platforms available which allow online booking through a provider directory. This makes the process of finding, selecting and booking an appointment with a provider a smooth, user-friendly process.
Patient First Contact – Setting the Foundation for Success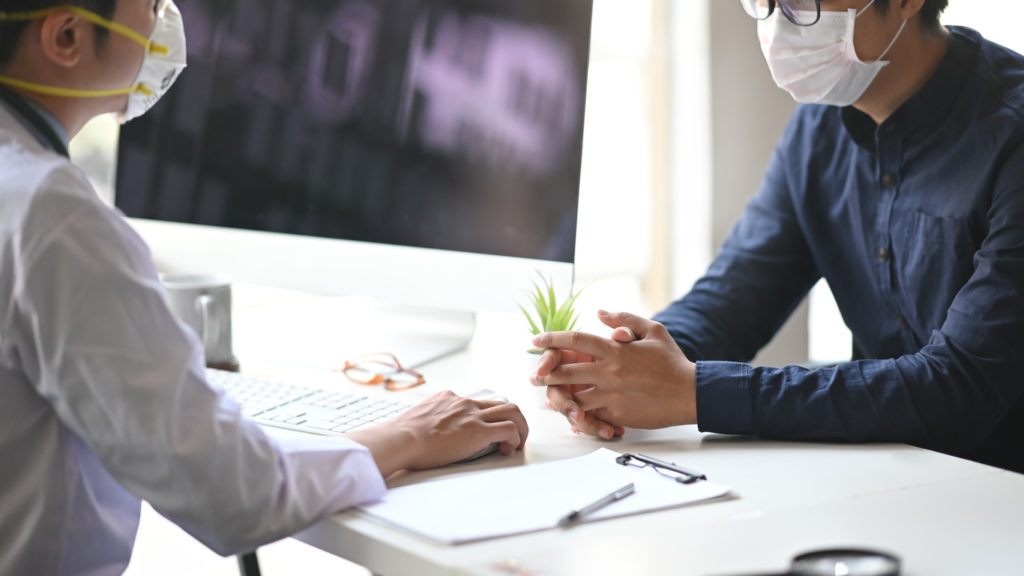 As mentioned above, getting accurate data to and from the patient as early as possible ensures the process runs smoothly and efficiently for everyone involved – it is impossible to overstate the importance of doing so.
Accurate bill estimates, patient responsibility discussions, propensity to pay assessments and payment options help prevent "sticker shock" and bad debt, increase willingness to pay upfront and help connect patients with financial aid or payment plans as needed
Complete and accurate insurance information and verification reduces denials and increases revenue and speed of payment
Bill Estimates
The increased financial burden on patients is the primary driver behind their increased consumerism in healthcare. They are now cost-conscious shoppers who engage in price comparisons as they would with any other significant purchase. Ultimately, they are looking for healthcare pricing that is as upfront as retail, including out of pocket costs and what they will receive for that price.
If you can provide them with accurate bill estimates, they are more willing to pay upfront. According to a 2019 TransUnion Healthcare survey, 65% of patients said if given an estimate of their bill at the time of service, they would be willing to make at least a partial payment. Price transparency also affects whether patients access care, as in the same survey 62% of patients indicated knowing their out-of-pocked cost in advance impacted their likelihood of pursuing care. That number increased for Millennial and Gen Z patients.
Accurate bill estimates (taking into account insurance coverage and deductible met so far) lead to patients more likely to access care and providers collecting earlier in the revenue cycle, a true win-win.
Patient Responsibility Conversations
The bill estimate can be carried over into a larger conversation with the patient about their financial responsibility. In a survey from Waystar and HIMSS Analytics, 86% of patients who received cost estimates reported that they understood their financial responsibility. A patient responsibility conversation helps identify the need for a payment plan or financial aid before the patient receives an unpayable bill in the mail.
Having transparent discussions about cost helps build trust and alleviate patient stress, so they can focus on getting well and keeping up with the treatment they need.
Propensity to Pay
Simple metrics like yearly income often fail to tell the whole story when it comes to the propensity to pay. Perhaps the patient has a good income now but was unemployed for some time and is struggling to catch up. They may have had a recent large, unexpected expense, like having to purchase a new vehicle or make an emergency home repair.
Getting a better picture of the patient's financial situation prior to service can help prevent bad debt. Tools that forecast a patient's ability to pay can offer as much value as bill estimators in developing more efficient collection methods, especially when used alongside pre-service financial counseling. According to this article, as of 2017 only 14% of providers used advanced modeling tools for propensity to pay, based on a survey of 125 revenue cycle executives – could it be a missing link in your revenue cycle?
Payment Options
As we've discussed in this very blog, patients need payment options to help them as they shoulder a larger financial responsibility for their health care than ever before. Given the current economic climate, some providers are taking a look at uninsured discount policies, as well as updating their charity care and sliding fee scales.
Payment plans are a must-have for healthcare providers in 2020. According to InstaMed's Annual Report for 2020, 44% of patients cannot pay a bill over $1,000, yet 52% would enroll in a payment plan that charged interest. 66% of surveyed patients reported they would consider changing providers for a superior healthcare payment experience, which includes the ability to enroll in a payment plan.
Correct, Complete Patient Information
Every year at least 5-10% of medical billing claims are rejected, costing providers billions in lost productivity and revenue. In a bad news/good news scenario, while only 66% are recoverable, 90% are preventable. Improving your front-end processes can help prevent the common data errors (including missing, incorrect and duplicate patient information) that lead to denials.
Around 33% of all denied claims are associated with inaccurate patient identification
As many as 12% of records are duplicates, mostly due to misidentification during registration
Not only are these expensive administrative errors, they can lead to patient mistrust. New technologies can automate front-end workflows, such as prior authorizations and benefit verification, to more easily collect accurate patient information.
Patient Convenience – Opening Access Avenues Online
As mentioned earlier, convenience is truly king in an era where virtually any product can go from order to in-hand within 2 business days. Patients are consumers and consumers don't wait. While the areas discussed below may seem less important, we believe Patient Access is truly optimized only when all details are accounted for.
Online Bill Pay
Forty-nine percent of respondents from the 2019 Healthcare Consumer Study expressed frustration about their provider's lack of digital access (e.g. online bill pay, insurance info access). Self-service tools (including online bill pay) can drive down administrative costs by as much as 35-40%. It increases patient satisfaction and decreases provider expenses – what's not to like?
Prescriptions
While the sample size is small (98 participants), the members of these focus groups included a wide variety of ages and health statuses by design. When asked to order 15 data elements from most to least desired for online access, "Medications and prescription medicine you are currently or have taken" was ranked the third highest. Nobody can be expected to remember the names of medications they may have taken years ago, so it makes sense to allow patients access to their prescription history online.
Conclusion – Patient Access and Experience Are Inseparable
All available data confirms that patients directly link the quality of their experience with the accessibility of care, payment options and personal health information. If executed with a focus on security and the end user experience, adopting the practices within this post will serve as a positive differentiator for your organization.
RevCycle offers services that cover many of these access points, as well as free consultations with our experts to discuss patient access or any other revenue cycle concerns you may have – send us a message or call today to schedule yours!